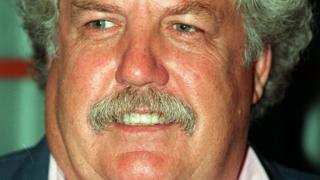 Actor and writer Colin Welland dies
3 November 2015
From the section UK
Image copyright
PA
Image caption
Welland wrote the screenplay for Chariots of Fire
Oscar-winning writer and actor Colin Welland has died aged 81 after suffering from Alzheimer's disease for several years, his family has announced.
Welland won an Oscar for best original screenplay for Chariots of Fire in 1982.
He famously used his acceptance speech to announce: "The British are coming!"
As an actor, he won a Bafta for playing the sympathetic English teacher Mr Farthing in Ken Loach's Kes in 1969.
Source:: BBC Entertainment