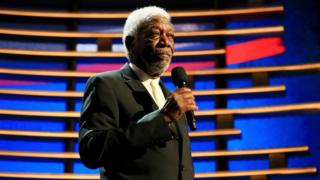 Actor Morgan Freeman in plane scare
6 December 2015
From the section Entertainment & Arts
Image copyright
Getty Images
Image caption
Morgan Freeman: "We landed safely without a scratch… I cannot say the same about my plane"
A private plane carrying Oscar-winning actor Morgan Freeman was forced to make an emergency landing, but the star and his pilot were unhurt.
The plane blew a tyre on take-off from Clarksdale, Mississippi, on Saturday.
The SJ30 jet made a forced landing in Tunica, about 40 miles (65km) away, where it went off the runway.
In a statement, the Shawshank Redemption star said: "Sometimes things don't go as planned and a tyre blew on take-off, which caused other …read more
Source:: BBC Entertainment