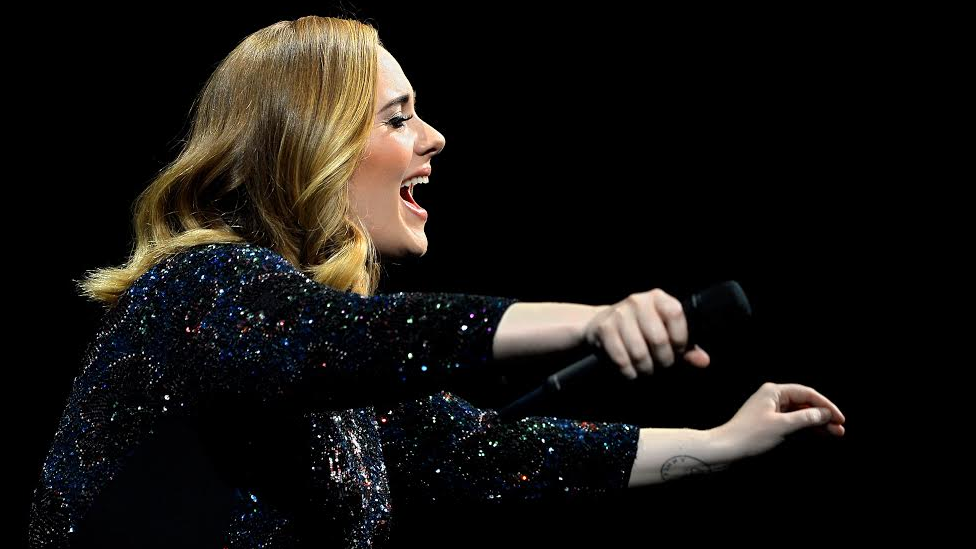 Crowds are already gathering at the Pyramid Stage to ensure they have prime positions when Adele plays Glastonbury on Saturday night.
It is the star's first performance at the festival since 2007, when she played the Park Stage, and her first ever headline set.
The singer, whose album 25 has sold some 19 million copies worldwide, was nonetheless a controversial booking.
Some called her "too boring", prompting a ferocious response from the singer.
"I'm actually more excited than I was now, because all those rock and punk fans have been having a moan that I'm doing it and I'm like: 'You're going to get dragged along by your wife, so just deal with it'," she said during her show at the O2 Arena earlier this year.
"To be honest, those people moaning about it, I've probably been more times than them anyway, so shut up."
Australian rock act Tame Impala, who play immediately before Adele on the Pyramid Stage, said they would stick around to watch her set.
"I feel like it's going to be a religious moment for me," frontman Kevin Parker told BBC News. "Even though Adele is a megastar, she's England's girl. She's royalty."
The Pyramid Stage opened on Saturday morning with a performance by the Lewisham and Greenhich NHS Choir, who scored last year's Christmas number one single.
They played a warm-hearted set of easy listening covers, including Bridge Over Troubled Water, Love Shine and Light and Lean On Me. Many , while many of the audience carried "We Love the NHS" placards.
They were followed by Squeeze, who kept the party spirit going with a raft of classics, including Up the Junction and Tempted.
Introducing Cool For Cats, frontman Chris Difford made a passing reference to Adele, saying: "You'll be hearing a lot of North London songs later on, but this one's a South London song."
Other acts on Saturday's line-up include Madness, The Last Shadow Puppets and Mercury-nominated rock band Wolf Alice.
Elsewhere around the site there will also be performances from New Order, Chvrches, The 1975 and James Blake.
And the night will end with Philip Glass's Symphony No 4, which is based on David Bowie's Heroes LP, performed by Army of Generals and members of the British Paraorchestra, led by conductor Charles Hazlewood.
The midnight performance, at the Park Stage, will be accompanied by an ambitious laser light show, that will be seen across Glastonbury's 900 acre site.
"I feel in my heart this is exactly the …read more
Source:: BBC Entertainment