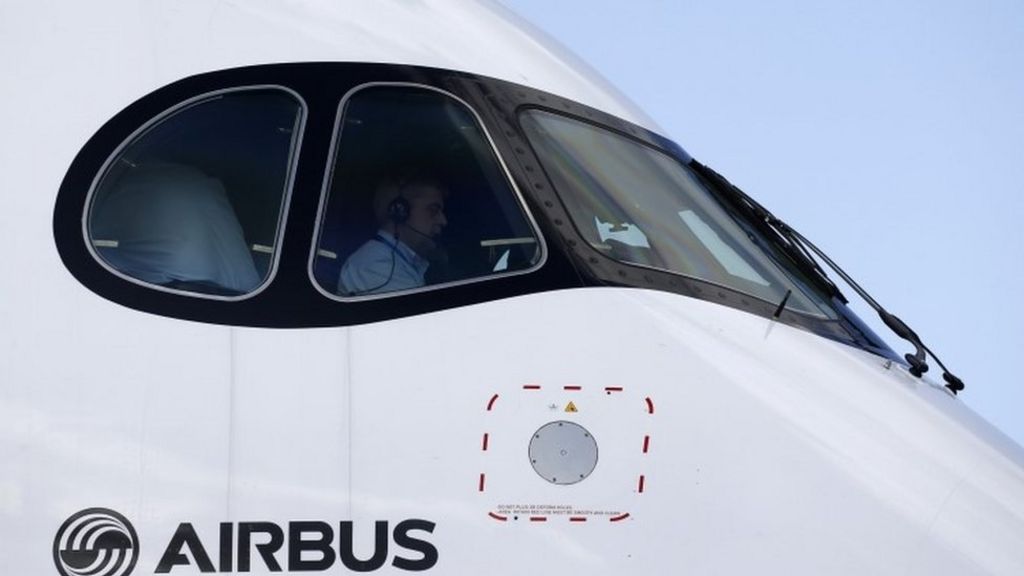 One of the world's largest aerospace firms has written to its 15,000 UK employees warning about the risks of voting to leave the European Union.
In a letter to staff, Airbus Group says it makes "good economic sense" for Britain to stay in the EU and suggests the company might reduce its investment in the UK if there was a vote to leave.
"We simply don't know what 'out' looks like," the letter states.
The campaign to quit the EU has claimed support from 250 business leaders.
EU vote: all you need to know
Group names pro-Brexit business backers
Its supporters include the former chief executive of the British Chambers of Commerce John Longworth, who quit earlier this year amid a row over the lobby group's position on the 23 June vote on whether to stay in the EU or leave.
Airbus employs 15,000 workers at 25 sites across the UK, generating £6bn a year making large aeroplanes and helicopters for civilian airlines and the RAF as well as satellites and cyber defence equipment.
The company says it is indirectly responsible for a further 100,000 jobs among its British suppliers.
Corporate view
It is no surprise that Airbus – which has large operations in France, Germany and Spain as well as Britain – supports the UK remaining in the EU. The company signed a pro-Remain letter to The Times with many other businesses in February.
But what is significant is its decision to come to a clear corporate view and express that view to its staff. Many businesses choose to stay out of the debate or simply allow their bosses to speak out in a personal capacity.
In the letter, the company emphasises what has helped to make the company a success because of its ability to move people and products …read more
Source:: BBC UK