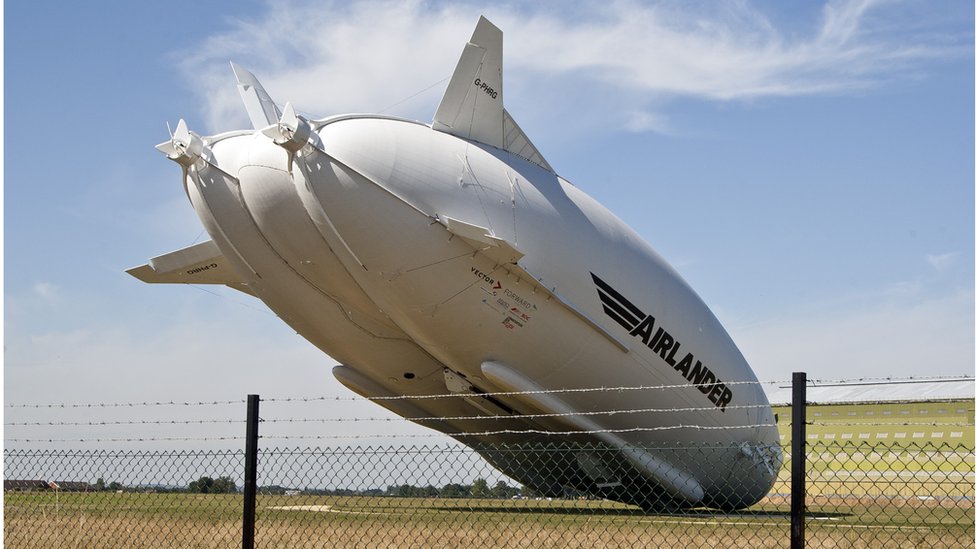 The world's longest aircraft came into contact with "high voltage power cables" before nosediving on landing, an electricity firm has said.
Developers of the Airlander 10 had denied witness reports the airship struck a telegraph pole during its "heavy landing" on Wednesday.
But UK Power Networks said the aircraft had come into contact with one of its power lines.
Hybrid Air Vehicles said a mooring line had been in "contact" with a cable.
Live: Updates on this story and other news from Bedfordshire
The £25m Airlander, which is 302ft (92m) long, was damaged during its second test flight from Cardington Airfield, Bedfordshire.
It initially denied claims from a witness that a line hanging down from the vehicle had hit a telegraph pole about two fields away from its landing site.
But after UK Power Networks said there had been contact, resulting in the loss of power to five customers, the firm released an updated statement.
"Hybrid Air Vehicles Ltd can confirm a mooring line attached to the Airlander did contact a power line outside the airfield," the company said in a statement.
"No damage was caused to the aircraft and this did not contribute to the heavy landing. We are sorry for any inconvenience this may have caused to anyone."
Let's block ads! (Why?)
Source:: BBC world news feed