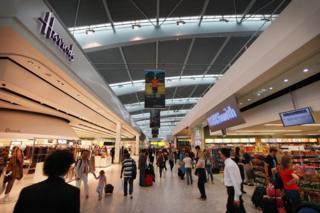 Airport shops could be forced to give VAT discounts
By Brian Milligan
Personal Finance reporter
30 December 2015
From the section Business
Image copyright
Getty Images
Airport shops could be forced to give VAT discounts to passengers travelling outside the European Union, following the launch of a government inquiry.
The Treasury said that the "extensive" review would make sure that shoppers got the discounts they are entitled to.
Tax-free shops should not charge VAT, if passengers are going outside the EU.
In August it was revealed that some airside retailers were not always passing VAT savings on to customers, but were keeping the money instead.
The Treasury said some shops were keeping as much as half the money they should, in theory, be giving to consumers.
"VAT relief at airports is intended to cut prices for those travellers – not be a windfall …read more
Source:: BBC UK