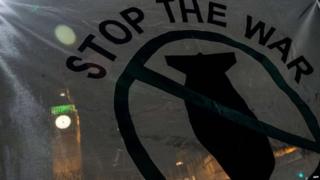 Corbyn urged to 'step back' from Stop the War coalition
6 December 2015
From the section UK Politics
Image copyright
AFP
Image caption
Stop The War has condemned abusive messages sent to some MPs after the Syria vote
A former shadow minister has called on Jeremy Corbyn to "step back" from the Stop the War Coalition, calling them a "disreputable organisation".
Tristram Hunt said the anti-war group, which Mr Corbyn once chaired, had been "irresponsible" before and after the vote on Syria air strikes.
The Labour leader, he said, should not attend a fundraising event this week.
Stop The War has said it has condemned terror atrocities and has a right to protest against military …read more
Source:: BBC UK