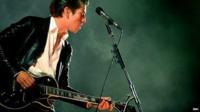 Arctic Monkeys close Leeds festival
By Sinead Garvan & Steve Holden
Newsbeat reporters at Leeds
25 August 2014 Last updated at 09:06
Arctic Monkeys closed the final day of Leeds festival, albeit ten minutes earlier than scheduled, while Blink 182 appeared as the final act at Reading 2014.
The Sheffield band raced through tracks from all albums with the AM waveform as their backdrop.
Alex Turner only addressed the crowd a few times to ask how their weekend had been.
This is one of the last gigs Arctic Monkey's will play off the back of their latest album AM.
Festival goers didn't seem too bothered about the slightly earlier than scheduled finish.
"Oh well," said Emma from Rippon, "they made up for it in how cool they were."
"They are really cool, like super cool. I think they are the coolest band by far.
"I love the waveform at the back that flashed AM, it was brilliant."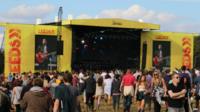 Mark …read more
Source:: BBC Entertainment