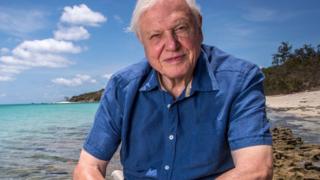 Sir David Attenborough: 'I am concerned about future of the BBC'
By Kev Geoghegan
Arts and entertainment reporter
5 December 2015
From the section Entertainment & Arts
Sir David Attenborough has voiced concern about the BBC's future as he returns to film at the Great Barrier Reef, after nearly 60 years.
"If you lose the BBC, then I certainly would have lost a very important element of my life," he says.
The BBC announced £150m cuts in November with a further £550m of savings due in spring 2016.
The cuts follow a fall in licence fee income and the extra cost of providing free television licences for over-75s.
The government has also pledged to close the so-called 'iPlayer loophole' – which refers to people who have switched to watching BBC services only on "catch-up" via the iPlayer, which does not currently require payment of the licence fee.
It will also pump £85m a year into new BBC services around the world in Russia, North Korea, the Middle East and Africa.
But with a decision on the BBC's royal charter due next year, culture secretary John Whittingdale has said …read more
Source:: BBC Entertainment