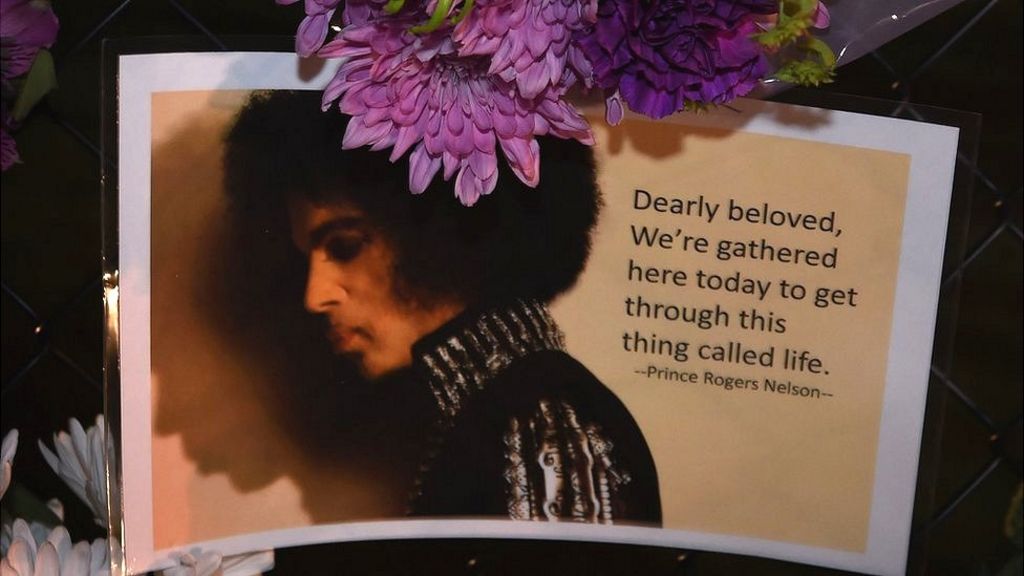 A post-mortem examination is due to be carried out on the body of superstar Prince, who died suddenly at his home in Minnesota on Thursday, aged 57.
Police found the legendary musician unresponsive inside a lift at the property, and paramedics were unable to revive him, the sheriff said.
A wave of tributes has swept around the world for the enigmatic musician who sold more than 100m records.
Fans gathered across America to dance and sing along to his hits.
Illuminated buildings from Las Vegas to Melbourne, Australia, turned purple – the colour with which he was associated since the release of his album Purple Rain.
Prince's innovative music spanned rock, funk and jazz, and he was at his peak in the 1980s with albums like Purple Rain, 1999 and Sign O' The Times.
The singer had been rushed to hospital in Illinois last Friday, while flying home from a concert in Georgia, but he was been treated and released after a few hours.
'The people are just distraught'
The Midwest Medical Examiner's Office in Minnesota said an examination would be conducted on Friday but warned it could be days or weeks before any findings were released.
A transcript of the emergency call to the sheriff's office which reported the death has been released to US media.
Phoning at 09:43 (15:43 GMT) on Thursday, an unidentified male caller says, "We have someone who is unconscious."
Struggling when asked to name the address, the caller replies, "Um, we're at Prince's house."
"Yea, we have um, yea, we have um, so, yea, um, the person is dead here," the caller continues, adding, "And the people are just distraught."
An unidentified female caller later joins the conversation to give the number of the house.
"You're at Paisley Park, OK, that's in Chanhassen," the police dispatcher checks. "Are you with the person …read more
Source:: BBC Entertainment