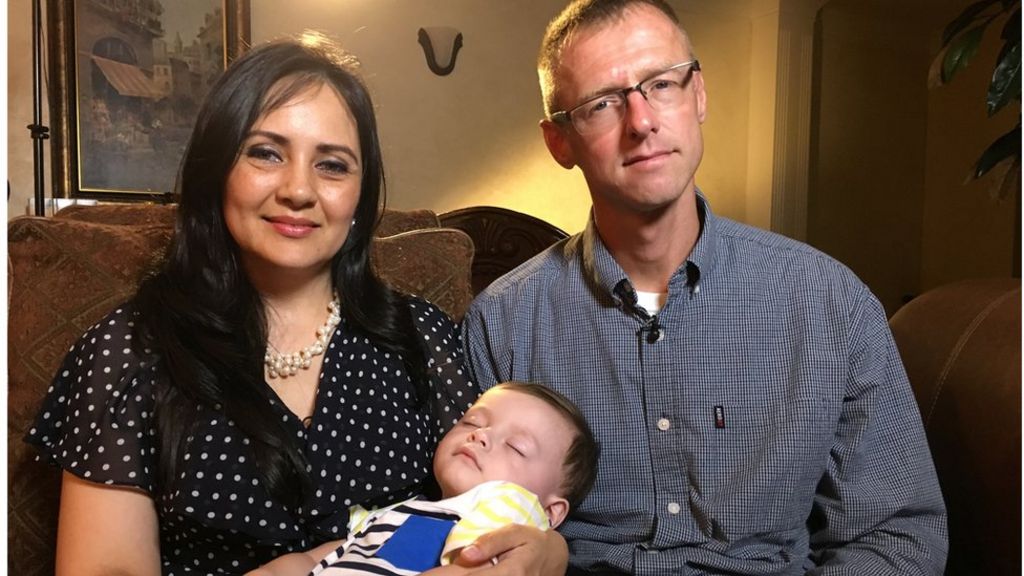 A British father and his wife who were given the wrong baby by a hospital in El Salvador have been allowed to travel home to the US with their child.
Richard Cushworth and his Salvadoran wife Mercedes Casanellas have been waiting over eight months for a birth certificate for their son Moses.
After initially taking home the wrong baby DNA tests proved he had been swapped with another boy.
They were both returned to their real parents eight months ago.
Ms Casanellas gave birth in her native El Salvador in May 2015 and her son spent his first night in a hospital nursery.
But the next day – unknown to her – she was given a different baby to take home.
The couple told the BBC they still have no idea how the swap happened.
Mr Cushworth, originally from Bradford, West Yorkshire, said they have spent over eight months trying to get the right paperwork to bring their son home, a process that has almost bankrupted the family.
Ms Casanellas said she became suspicious when she noticed the features of the newborn differed from those of the boy doctors had handed to her when she gave birth by emergency Caesarean.
"He was just passed by me and I gave him a kiss and then he was taken to the nursery and that was the last time I saw him," she said.
The next day nurses brought her a baby and insisted it was hers, despite her immediate doubts.
She said she thought the second baby's skin was darker.
After returning to their home in Dallas, Texas, Ms Casanellas took a DNA test four months later which said there was a 0% chance she could be the mother of the baby she had been given.
She said the most difficult moment was handing over a child they had nurtured since birth.
"The thought that the baby I had been nursing, taken care of, loving him, bathing him, that he was not mine and then I had another thought which came with it -where's my baby? So I had two thoughts — what's going to happen with this baby and where's my baby."
Source:: BBC world news feed