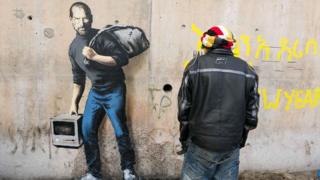 Banksy work in Calais 'Jungle' shows Steve Jobs as migrant
11 December 2015
From the section Europe
Image copyright
Banksy
The graffiti artist Banksy has created a new artwork in the so-called Jungle refugee camp in Calais depicting the late Steve Jobs, the founder of Apple.
The artwork shows Jobs, the son of a Syrian migrant, carrying an early Apple computer and a bin bag of possessions.
The work is intended to draw attention to the benefits of migration, Banksy said.
The artist, who has never revealed his identity, donated elements of a recent installation to the camp for shelter.
Source:: BBC Entertainment