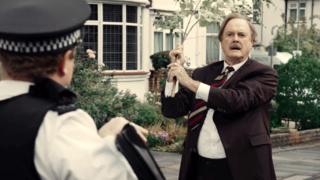 John Cleese revives Basil Fawlty for TV advert
24 December 2015
From the section Entertainment & Arts
Image caption
Cleese helped write the script with the ad team
John Cleese has revived his famous hotelier Basil Fawlty for a TV advert, 36 years after Fawlty Towers ended.
Cleese has recreated the 1975 scene in which a frustrated Fawlty berated his broken down car before giving it a "damn good thrashing" with a branch.
Cleese agreed to rewrite the scene for Specsavers opticians as he thought it would be "genuinely funny".
The ad sees Fawlty lose his patience with a sat nav and take out his anger on the wrong target – a police car.
"A lot of people have sent me Fawlty Towers scripts, or Basil scripts, and they were always absolutely awful," Cleese said.
"But these people had an idea, and I have to say, I …read more
Source:: BBC Entertainment