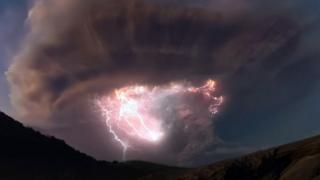 BBC 'should have told' viewers of doctored volcano video
4 October 2015
From the section Entertainment & Arts
Image caption
The show's producer said 'a series of composite images' was required
A volcano eruption shown on a BBC Two programme actually used footage from two different volcanoes taken four years apart, the corporation has said.
The eruption of the Calbuco volcano in Chile in April was shown in the first episode of Patagonia: Earth's Secret Paradise last month.
But a dramatic lightning storm seen above the volcano was actually shot at a different location in 2011.
The BBC said viewers should have been told a "composite image" was used.
The programme showed a violent "dirty thunderstorm", in which lightning strikes are seen within the ash clouds from an erupting volcano.
In a blog post, the show's producer Tuppence Stone said such events …read more
Source:: BBC Entertainment