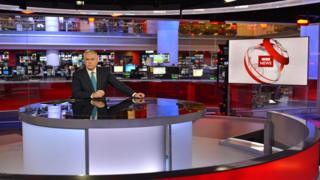 BBC News at Ten to extend by 15 minutes
10 December 2015
From the section Entertainment & Arts
Image caption
Huw Edwards in the BBC newsroom studio
The BBC's News at Ten is to run 15 minutes longer in the New Year, with the bulletin set to end at 22:45 GMT on every weekday except Friday.
According to the corporation, "the extended Ten will give audiences even more news analysis and explanation."
With additional news from the Nations and Regions, the programme will be 45-minutes long from Monday through to Thursday, starting from 11 January.
The move follows a five-month trial in the run-up to the General Election.
"Along with its sister programme at 6, The BBC's 10 o'clock News is already the most popular news bulletin in the UK and, in the New Year, it will offer even more," said Gavin Allen, controller of daily news programmes.
Source:: BBC Entertainment