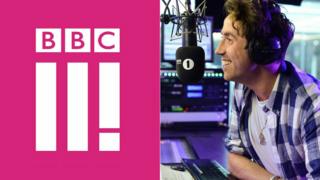 'Merger plan' for BBC Three and Radio One
13 February 2016
From the section Entertainment & Arts
BBC Three and BBC Radio 1 could be merged under the same division in future, according to reports.
The TV channel is moving online-only on 16 February and consideration is now being given to moving it within a new "youth division", Radio Times says.
A single controller may oversee all BBC platforms aimed at 16-34 year olds, including the popular radio station.
The BBC said it was looking at its "structure… for the digital age" but no changes had been confirmed.
BBC Three was launched as a digital TV channel in 2003. In November last year, the BBC Trust approved proposals to move it online as part of cost-cutting moves at the corporation.
'Powerful brand'
BBC sources quoted by Radio Times said the plans are at the ideas stage but are being "seriously considered" by strategists.
But they are only likely to be implemented if the online BBC Three fails to get "sufficient traction", they said.
Radio 1 includes video content on its website and some of its programming is available on the BBC's iPlayer TV catch-up service.
Source:: BBC Entertainment