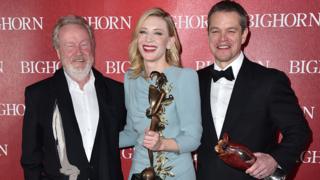 Cate Blanchett and Matt Damon top Palm Springs Festival awards
3 January 2016
From the section Entertainment & Arts
Image copyright
AP
Image caption
Ridley Scott posed with Cate Blanchett and Matt Damon
Oscar hopefuls Cate Blanchett and Matt Damon were among the winners at Palm Springs Film Festival, with Damon saying director Ridley Scott deserved an Academy Award.
Damon, who starred in Scott's film The Martian, said of Scott: "I hope that this is his year".
Carol star Blanchett thanked the festival for giving its honourees "a moment of glory" even if "we are not nominated for any other award".
The festival also honoured Johnny Depp.
Source:: BBC Entertainment