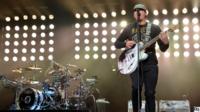 Blink 182 headline Leeds Festival
By Sinead Garvan
Newsbeat music reporter at Leeds Festival
23 August 2014 Last updated at 08:24
American pop-punk trio Blink 182 headlined the first night of Leeds Festival.
They appeared on stage silhouetted behind a Union Jack before opening with Feeling This.
There was drama at Reading Festival as Paramore's set was interrupted by 15 minutes.
They were half way through their set when a technical fault stopped their performance.