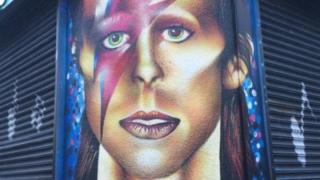 David Bowie Sheffield tribute mural ridiculed on social media
3 February 2016
From the section Sheffield & South Yorkshire
Image caption
The Aladdin Sane painting has been criticised by some people on Twitter
A David Bowie tribute mural created by a Sheffield graffiti artist has been ridiculed by some social media users.
A 7ft (2.1m) painting by Trik featuring Bowie in the persona of his character Aladdin Sane has appeared on a street corner in the city centre.
One Twitter contributor remarked, "How did you find an artist with no idea what Bowie looked like?", while another asked, "Who is that a picture of?"
Trik said he found it all "fun", but he might now paint over the picture.
More on this story and others from South Yorkshire
The 25-year-old self-taught artist said: "I'm looking at the reaction …read more
Source:: BBC world news feed