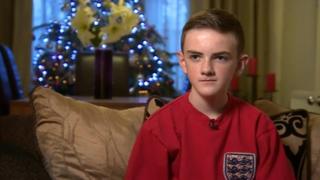 Cancer fundraiser, 13, youngest honours recipient
30 December 2015
From the section Kent
Image caption
Jonjo Heuerman was inspired to raise money by the death of his grandmother
A prolific schoolboy fundraiser has been awarded a British Empire Medal – and at the age of 13 is the youngest person on the New Year Honours list.
Jonjo Heuerman, from Dartford, has raised more than £235,000 for Cancer Research UK's Bobby Moore Fund.
"It was a big surprise, because I never thought I could get something like this at this age," the teenager said.
"It made me feel quite proud of myself because I've worked really hard over the last five years."
He added: "In 2009 my nan died from bowel cancer – she had been fighting it for a very long time.
"My football hero Bobby Moore also died from it about 20 years ago, and I …read more
Source:: BBC UK