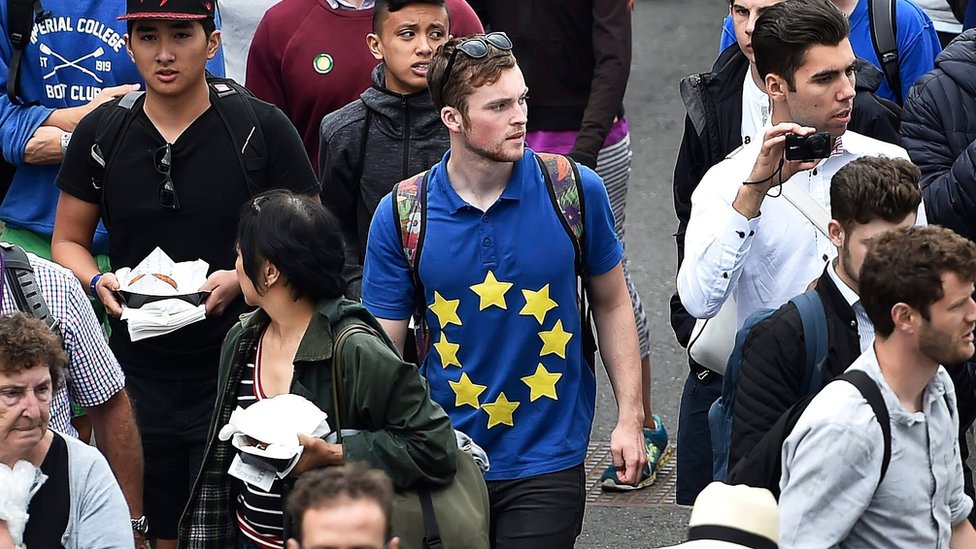 Even by British standards, the queue to get into the All England Tennis Club is an impressive thing to see.
Each year this part of south-west London becomes a very neat campsite as lines of tents emerge in carefully arranged sections, put up by people happy to sit and wait in the hope of catching a glimpse of their favourite tennis stars.
Yet the Wimbledon queue is a very multicultural place, with thousands of people travelling from across the world and waiting together to enter the championship grounds.
So in this melting point of international opinion, what are the thoughts of the people in the queue about Britain's decision to leave the EU?
'Deeply depressed'
Wearing a hat lined with the EU's gold stars, it's no surprise what Dave Treanor thinks about Brexit.
"I think it's an utter disaster. I've been deeply depressed ever since", the south-west Londoner said.
He believes the Leave campaign's arguments were "a con" but accuses the Remain campaign of being "very poorly managed".
"All they were saying is we could control immigration. They're not going to control immigration because immigration is all to do with economic growth.
"No economic growth, no immigration – it's as simple as that," he said
'Staying calm'
Rebecca Adams arrived from Virginia at the end of last week on the day the vote was announced. "A moment in history," she calls it.
She revealed she was "surprised" by the decision to leave the EU and had seen "a lot of disharmony" since.
"Whenever you go through some major change like this I think everybody is extremely concerned for a while," she said
However, she believes the British spirit will pull things through.
"The Brits are so good at staying calm and carrying on. I think we all hope that this will be the way."
'Opportunity'
"I am pretty much heartbroken about the whole thing," Sarah Yong …read more
Source:: BBC world news feed