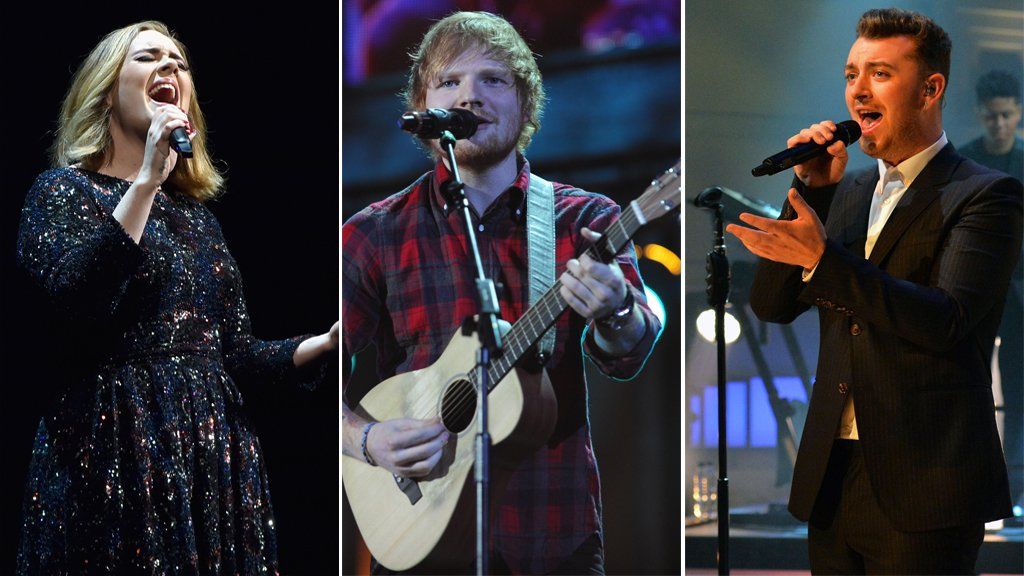 British artists including Sam Smith, Ed Sheeran and Adele have helped the music industry return to meaningful growth for the first time in almost 20 years.
British artists accounted for five of the top 10 selling albums last year, as the global music industry generated $15bn (£10.5bn).
Overall, revenues grew 3.2%, reversing a 0.4% decline in 2014.
And digital music overtook physical records as the primary source of income for the first time.
Best-selling artists worldwide in 2015 (Source: IFPI)1) Adele2) Ed Sheeran3) Taylor Swift4) Justin Bieber5) One Direction6) Coldplay7) Maroon 58) Sam Smith9) Drake10) The Weeknd
"The most striking feature of the recovery is its global nature," said Stu Bergen, president of Warner Music, one of the world's three major labels.
He said streaming and social media meant music was being shared in unprecedented ways.
"We're seeing geographic boundaries being dissolved and artists breaking around the world with astonishing speed.
Mr Bergen cited the example of Danish band Lukas Graham, whose single 7 Years has become a global hit without the band needing to travel to promote it.
"I predict we'll see far more diversity and nationalities in the mainstream charts in the coming years," he told the BBC.
After years of uncertainty and confusion over digital music, streaming appears to have rescued the industry from decades of decline.
An estimated 68 million people worldwide now pay for a music subscription service, the International Federation of the Phonographic Industry (IFPI) said, up from 41 million in 2014 and eight million when data was first compiled in 2010.
Helped by the spread of smartphones and a proliferation of services – including Spotify, Deezer, Tidal and Apple Music – streaming now represents 19% of the music industry's income, up from 14% in 2014.
In the US, 317 billion songs were streamed in 2015, while the UK figure was 25 billion.
The figures …read more
Source:: BBC Entertainment