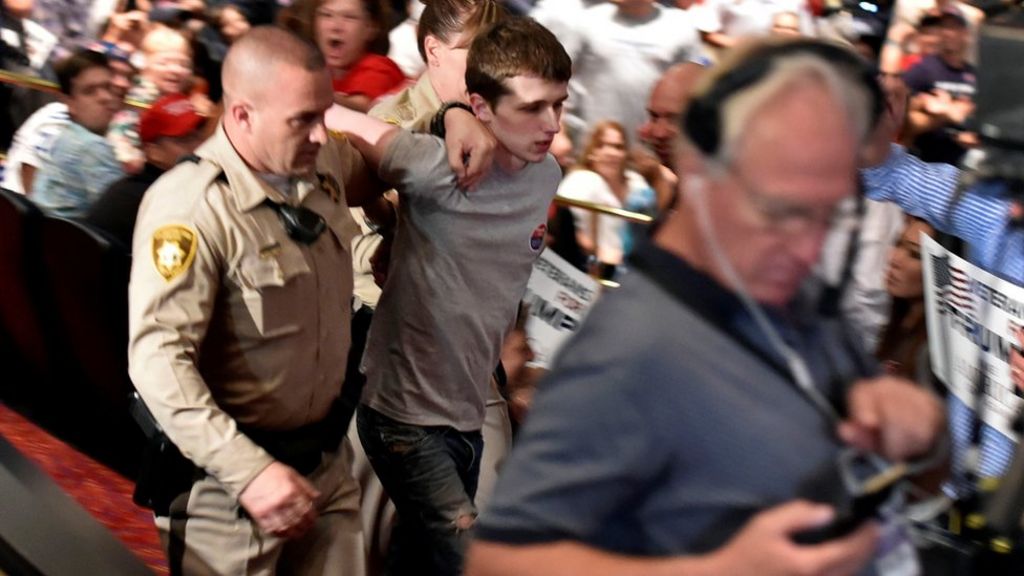 A man who tried to grab a gun at a Donald Trump rally in Las Vegas at the weekend said he wanted to shoot the candidate, court papers say.
Michael Steven Sandford, 19, who is believed to be British, is expected to appear in a Nevada court shortly.
According to the court papers, he went to a Trump rally on Saturday at the Treasure Island Casino.
He reportedly approached a Las Vegas police officer to say he wanted an autograph from the candidate.
He has a UK driving license and told police he had been in the US for one and a half years, the court papers say.
The detainee reportedly told police he had been planning to try and shoot Mr Trump for about a year but had decided to act now because he finally felt confident enough to do so.
Earlier on Monday, Mr Trump fired his campaign manager, Corey Lewandowski, who oversaw his triumph in the primary contests.
When asked about the arrest of Michael Sandford, a Foreign Office spokesman said: "We are providing assistance following an arrest of a British national in Las Vegas."
'Expected to be killed'
According the court papers, Mr Sandford said he had never fired a gun before but went to a range in Las Vegas on 17 June to learn how to shoot.
At the rally he allegedly tried to grab the officer's weapon because it was in an unlocked position and therefore, he said, the easiest way to get a gun to shoot Mr Trump.
Court Documents say Mr Sandford acknowledged he knew he would only be able to fire one or two rounds, and expected to be killed during an attempt on Mr Trump's life.
He told police if he had not tried to kill Mr Trump at this rally he would have tried again at …read more
Source:: BBC UK