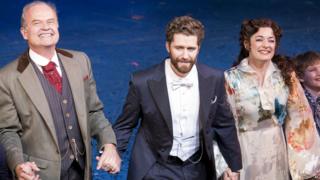 Broadway sees 2015 audience numbers dip
5 January 2016
From the section Entertainment & Arts
Image copyright
AP
Image caption
Finding Neverland enjoyed record festive takings
Broadway's 2015 box office takings have dropped $8m (£5m) from the previous year despite a strong Christmas period.
Industry statistics released on Monday show theatres took an overall $1.354bn (£923m) in 2015, compared to 2014's total of $1.362bn (£928m).
Audience figures also saw a dip from 13.13 million people to 12.98 million in 2015.
Yet the year ended on a high as several shows, including Aladdin and The Illusionists, broke theatre records.
The Broadway League said 2014 had set a surprising benchmark for takings and attendance.
Source:: BBC Entertainment