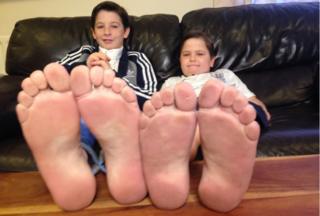 Prosthetic feet Christmas gift for football fan brothers
24 December 2015
From the section Leicester
Image caption
Kian and Callum Jarram were born with a very rare condition called Adams-Oliver syndrome
Two brothers born without toes have received the "best Christmas present ever" – two pairs of prosthetic feet.
Kian and Callum Jarram and their dad Jon, from Syston, Leicestershire, are the only people in England known to have rare Adams-Oliver syndrome.
Mr Jarram raised £8,000 to pay for the silicone feet, which are not available on the NHS, via a fundraising website.
The football fan brothers, aged 11 and seven, said they could now "play and match up with the other boys".
Source:: BBC world news feed