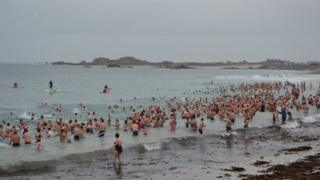 Christmas swims expected to attract bumper numbers
25 December 2015
From the section Cornwall
Image caption
Wearing wetsuits is cheating, the Outdoor Swimming Society said.
Christmas swims are expected to attract bumper numbers this year due to milder winter weather and growing popularity for the craze.
Interest and participation has increased hugely in recent years across the country, according to the Outdoor Swimming Society.
Eighty outdoor swims are being held over the 2015 season, with most taking place on Christmas or Boxing Day.
Safety advice has been issued by the society for the first time.
Spokesman Will Cairns said it was expecting more people to take part this year in the sea, rivers and lidos.
"What's interesting this year is the temperature of the water.
"It's three to four degrees higher in certain places than it was this time last year. Temperature does play a part."
Source:: BBC world news feed