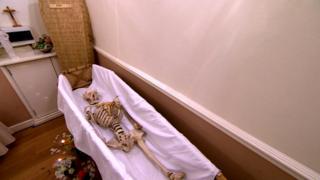 Burial service held for Haydock High School skeleton
3 December 2015
From the section Liverpool
Image caption
The skeleton had been used for 40 years
A burial service has been held for a school skeleton that was used in art and science classes for 40 years.
Haydock High School enlisted the help of an undertaker to arrange forensic tests on the skeleton – nicknamed Arthur.
They discovered it was likely have been one of hundreds of skeletons bought from India in the early 20th Century in a trade that was later outlawed.
A number of school pupils attended the funeral and burial service.
Source:: BBC world news feed