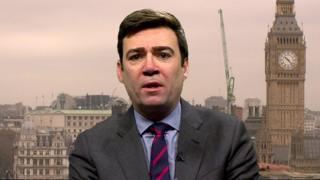 Burnham calls for Labour action against social media bullying of MPs
3 December 2015
From the section UK Politics
Shadow Home Secretary Andy Burnham has called for a code of conduct to prevent bullying and intimidation of MPs.
He said social media was "in danger of poisoning our politics" and Labour Leader Jeremy Corbyn had to take a "firm line" on it.
Mr Burnham, who voted against air strikes in Syria, said he was concerned about abuse and threats directed at colleagues who voted for action.
He said people sending such messages "need to have a look at themselves".
Source:: BBC UK