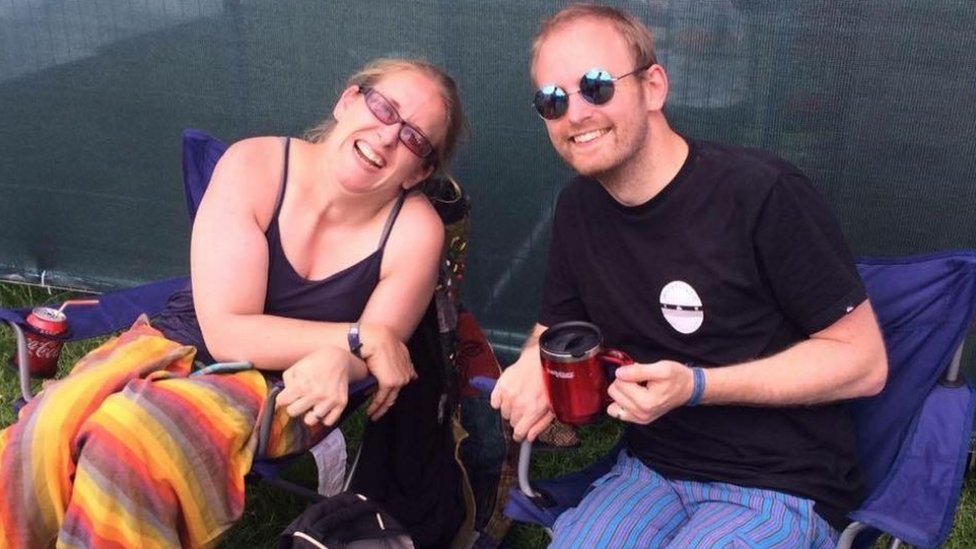 An ex-Paralympian and her husband said they were called "window lickers" by a member of staff at "Europe's most prestigious folk festival".
Swimmer Fran Williamson and former GB rowing cox Dr Chris Whitaker said they heard the remark as they left the Cambridge Folk Festival.
The pair said they were deeply hurt by the comment, which marred an otherwise "really disability-friendly" event.
A festival spokesman said they found "no evidence" after investigating.
Dr Whitaker said he and his wife, a six-times Paralympic medallist who has cerebral palsy, were leaving the festival on Friday when they heard the offensive term.
More news from Cambridgeshire
"As we were walking away there was a reference made to us being 'window lickers'.
"Luckily at the time I didn't realise what was going on but Fran most certainly did and was shaking with rage," he wrote.
"She finally explained to me and I was livid."
In an open letter on his own blog, Dr Whitaker, who works for disability charity Papworth Trust, wrote to the person he said insulted them: "I don't even know your name but I really wanted to write to you and tell you how I felt after our conversation last night.
"Your use of the words 'window licker' to describe my wife and I was deeply, deeply hurtful."
He added: "Remarks like yours… have a lingering, corrosive effect on my confidence."
'Misguided and moronic'
A number of people have commented, including Britain's most-decorated Paralympian Dame Tanni Grey-Thompson, who described it as "appalling".
Folk festival organisers, Cambridge Live, responded to Dr Whittaker's comment on Twitter, saying they were "equally shocked" and were investigating.
In a statement released later, a spokesman said a number of staff who would have heard the alleged comment were interviewed on site.
The investigation found "no evidence" to suggest the term was used, he said, and "pointed to a comment about …read more
Source:: BBC world news feed