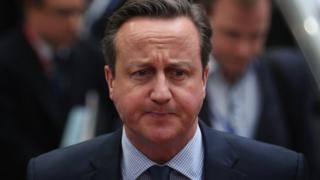 Image copyright
Getty Images
Talks on reform of the UK's place in the EU have continued in the early hours after Downing Street said there was "real hard work to do overnight".
European Council President Donald Tusk said there had been "some progress" on the first day of the Brussels summit, but "a lot still remains to be done".
He began a series of meetings with David Cameron and other leaders in the early hours. Formal talks resume later.
Divisions on the proposed deal for the UK are said to be deeper than expected.
In talks on Friday, Mr Cameron will seek to secure the deal he wants before holding an in/out referendum on the UK's EU membership.
Follow the latest developments with the BBC's EU Summit live
German Chancellor Angela Merkel is reported by the Reuters news agency as saying it had become "clear that agreement will not be easy for many, but that the will is there".
Media captionEU Council President Donald Tusk gave a short press conference overnight
The first EU Council session ended on Thursday with no agreement on several issues, and an EU source said that while it had been "intense and constructive" with all the countries confirming their wish for the UK to stay in the bloc, some also set out specific concerns.
"We expected this," the EU source said: "But honestly we had hoped for some of them to be less critical."
BBC Europe correspondent Chris Morris …read more
Source:: BBC UK