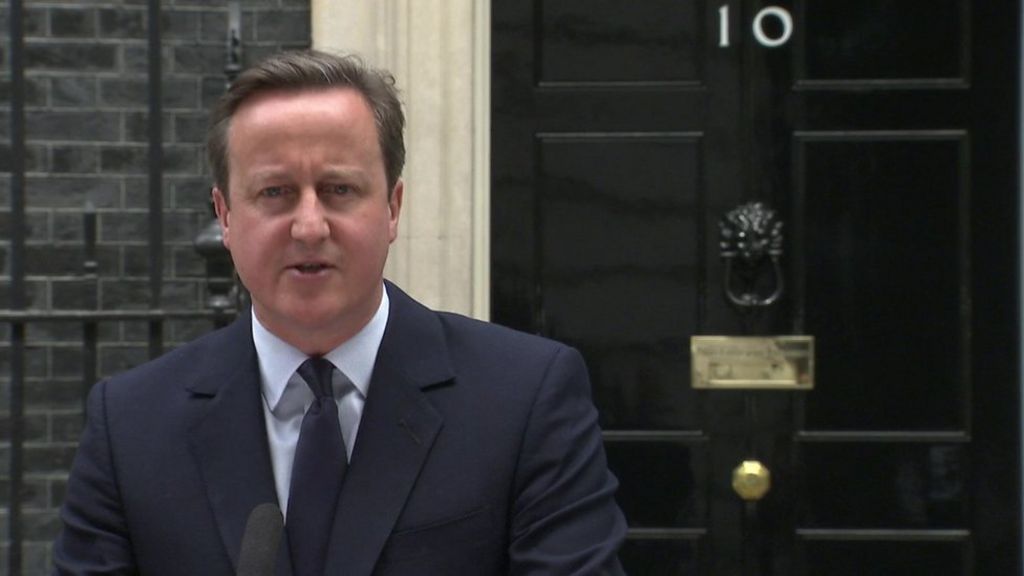 David Cameron has urged people to think of the "hopes and dreams" of future generations in a direct appeal to them to vote to stay in the European Union.
Speaking outside No 10, the prime minister said he would not recommend a Remain vote if he didn't feel it would make the UK safer and more prosperous.
He said: "Britain does not quit, we get involved, take a lead, make a difference and get things done."
Vote Leave says the vote is a chance to take control of the UK's destiny.
There are less than 48 hours to go before voters head to the polls to decide whether the UK remains in the EU or leaves. Both sides are making fresh appeals to undecided voters ahead of the last TV referendum debate of the campaign, to be broadcast by the BBC later.
In a hastily arranged ten minute statement outside Downing Street, Mr Cameron strove to emphasise the momentous nature of the decision facing the British people, warning if the UK chose to leave it would be "irreversible" and Britain would be "out of Europe for good".
'Open society'
Warning that family finances and jobs would be put at risk by a vote to leave, he said the UK's economic security was "paramount".
Pointing out that his first duty as prime minister was to keep the country safe, he said EU membership – and the access that it gave him to intelligence material and security co-operation – made his job of fighting terrorism and organised crime easier.
Conscious of the "honour and responsibility" that he felt to have served as prime minister for six years, he said he would not recommend a Remain vote if he felt it would make the UK weaker or diminish its standing in the world.
"I believe very deeply from my years of experience …read more
Source:: BBC UK