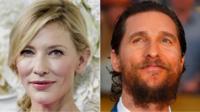 16 April 2015
From the section Entertainment & Arts
Cate Blanchett and Matthew McConaughey are among the stars expected on this year's red carpet
Cate Blanchett, Matthew McConaughey, Marion Cotillard and Sir Michael Caine are among those with films competing at this year's Cannes Film Festival.
The line-up sees many returning auteurs including new films from Gus Van Sant, Nanni Moretti and Jacques Audiard.
Films from Woody Allen and new Pixar animation Inside Out will play out of competition, alongside Asif Kapadia's Amy Winehouse documentary.
The festival begins on 13 May with a jury chaired by Joel and Ethan Coen.
Festival director Thierry Fremaux announced the line-up in Paris on Thursday, simultaneously launching a campaign to stem the tide of "selfies" on the red carpet.
"We don't want to prohibit it, but we want to slow down the process of selfies on the steps," said Fremaux. "We think it's ridiculous and grotesque and really slows things down."
"You never look as ugly as you do in a selfie," he added.
Thursday's press conference follows earlier announcements regarding the opening film – La Tete Haute (Standing Tall), by French actress-director Emmanuelle Bercot – and the worldwide premiere of Fury Road, the latest chapter in the revived Mad Max franchise.
Michael Fassbender will play Macbeth to Marion Cotillard's Lady Macbeth
Seventeen films were unveiled in competition and 14 in Un Certain Regard, although Fremaux noted there would be more films added to the line-up in the coming days.
Blanchett will star alongside Rooney Mara in Carol, based on a novel by The …read more
Source:: BBC Entertainment