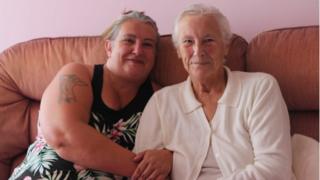 Carers at Penhellis Community Care 'faked visits'
24 September 2015
From the section Cornwall
Image caption
Pam Wheeler's daughter Diane said her mother thought she was doing the right thing
Care workers asked a client to fake their visits because they were under so much pressure, it is claimed.
Pam Wheeler, 76, who had had cancer surgery, said her carers persuaded her to make a phone call confirming they had visited when they had not.
The care provider Penhellis Community Care said an investigation was under way with Cornwall Council and it could not comment further.
The council said an alternative provider was being sought.
Mrs Wheeler said she was supposed to be seen four times a day, but visits were inconsistent.
The Wheeler family said some of the carers told her if they did not make the planned visits they would not …read more
Source:: BBC world news feed