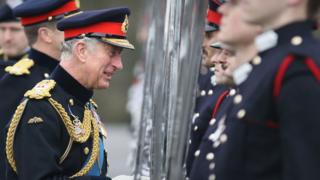 Prince Charles warns Sandhurst cadets of 'death cult'
11 December 2015
From the section UK
Image copyright
PA
A "cult of death and destruction" is seducing "lost young people", the Prince of Wales has told Army officer cadets at a passing-out parade.
Prince Charles did not mention the Islamic State group but his comments at Sandhurst are being interpreted as a reference to the organisation.
He told the cadets the international order was "under challenge as never before in my lifetime".
It was the first passing out involving mixed platoons of men and women.
The Sovereign's Parade at the military academy in Surrey formally marks the senior cadets' completion of their commissioning course, and the Prince of Wales was representing the Queen at the event for a fourth time.
He told the officer cadets they would face trials "as great as any faced by our forebears", but said he was confident they would rise to the challenge.
'Fair play'
"You are receiving your commissions as officers at a moment when the profession of …read more
Source:: BBC UK