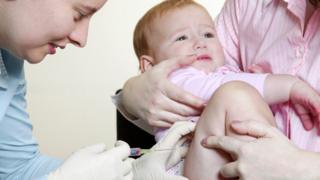 Childhood MMR vaccination rates fall
By James Gallagher
Health editor, BBC News website
23 September 2015
From the section Health
Image copyright
SPL
The proportion of two-year-old children in England having the MMR vaccine has fallen, according to NHS statistics.
In 2014-15, 92.3% of children had the jab to protect them from measles, mumps and rubella.
The Health and Social Care Information Centre said the figure was 92.7% in the previous year – which was the highest level of coverage ever achieved.
Some parts of the country had less than 80% of children immunised against the infections.
The target rate is 95%, which is enough to prevent the diseases spreading in a community.
Autism
A completely discredited health scare linking the MMR jab to autism led to immunisation rates plummeting a decade ago.
Between 1996 and 2004, vaccination …read more
Source:: BBC UK