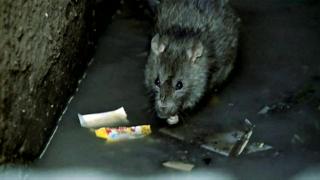 Liverpool rat reports 'up by a third since 2014'
7 February 2016
From the section Liverpool
Image caption
Liverpool City Council had 7,181 reports about rats in 2015
Reported rat sightings in Liverpool have increased by a third in the last two years, the city council said.
More than 7,000 calls were made to the local authority in 2015, compared with 5,374 in 2013.
Liverpool City Council cut its 2014-15 pest control budget by £213,597 and plans a further £745,809 cut by 2017.
But, Councillor Steve Munby said the rise in the number of calls was not "primarily to do with reductions in the number of people in pest control".
"It is a problem we have to try and manage," he told the BBC's Inside Out North West programme.
The latest figures do not include calls to private pest …read more
Source:: BBC world news feed