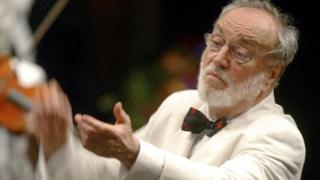 Conductor Kurt Masur dies at 88
19 December 2015
From the section Entertainment & Arts
Image copyright
AFP
Image caption
Kurt Masur was musical director of the New York Philharmonic for 11 years
Kurt Masur, the German conductor who led the New York Philharmonic orchestra, has died in the US at the age of 88.
Philharmonic President Matthew VanBesien said Masur had "left a legacy that lives on today".
Masur was music director of the philharmonic from 1991-2002 and is credited with reinvigorating it.
Prior to that he led the Leipzig Gewandhaus Orchestra in eastern Germany for 26 years.
In the celebrations marking the reunification of Germany on 3 October 1990 he directed Beethoven's Ninth Symphony.
Source:: BBC Entertainment