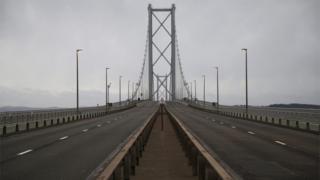 Contingency plans after Forth Road Bridge closure
5 December 2015
From the section Edinburgh, Fife & East Scotland
Image copyright
Reuters
Image caption
The Forth Road Bridge is closed to traffic until the New Year due to structural faults
Businesses and organisations are making contingency plans after it was announced the Forth Road Bridge will be closed until the new year.
The closure has shut down the most direct route for vehicles travelling between Fife and Edinburgh.
The bridge will remain open to ambulances and police on emergency calls.
But more routine health service appointments could be affected by the closure.
The 51-year-old bridge was closed at midnight on Thursday after a defect was found in …read more
Source:: BBC UK