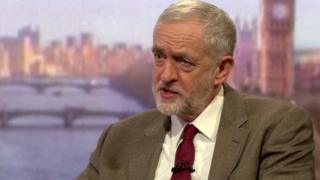 Corbyn: UK could keep Trident submarines but without warheads
17 January 2016
From the section UK Politics
Jeremy Corbyn has suggested the UK could keep its Trident submarine fleet but without carrying nuclear warheads.
The Labour leader said there were "options" for maintaining defence jobs while showing the UK was willing to take a lead in nuclear "de-escalation".
He told the Andrew Marr Show protecting jobs was his "first priority" and he wanted a debate about how to do this.
Parliament is to hold a vote on whether to renew Trident by building four new Vanguard submarines later this year.
Live updates: Sunday's political interviews
Mr Corbyn is at odds with many of his MPs over the future of the UK nuclear weapons system, which will cost an estimated £60bn to renew, and has commissioned a review led by shadow defence secretary Emily Thornberry to look at its future.
The Labour leader has been a longstanding opponent of Trident but some MPs and peers have threatened to resign if Labour reverses its decades-long support for the nuclear deterrent.
Mr Corbyn told the BBC that Trident was a relic from a "cold war generation" that was not capable of protecting the UK from current threats, and …read more
Source:: BBC UK