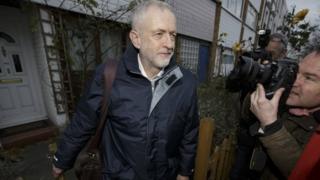 Jeremy Corbyn 'must take firmer stand on bullying'
By Ross Hawkins
Political correspondent
3 December 2015
From the section UK Politics
Image copyright
AP
Jeremy Corbyn risks allowing his MPs to be bullied by left-wing activists because he has not clamped down firmly enough on personal abuse, Labour MP Wes Streeting has said.
Emails sent to another Labour MP show how she was warned she would face a campaign for de-selection as a party candidate after announcing that she would back air strikes.
Mr Streeting told BBC Radio 4's Today: "I don't believe that Jeremy Corbyn as an individual somehow encourages the bullying of Labour MPs but I think at the moment he's in danger of permitting it by not showing strong enough leadership, by not clamping down on this."
The Ilford North MP urged his party leader to ensure that none of his team was complicit with bullying messages.
Mr Corbyn has repeatedly condemned personal …read more
Source:: BBC UK