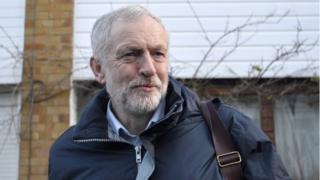 Jeremy Corbyn to warn businesses over 'unfair' pay
16 January 2016
From the section UK Politics
Image copyright
Reuters
Jeremy Corbyn is to say that a Labour government could ban companies from paying dividends to shareholders unless they pay workers the living wage.
He will say in a speech later that too much profit from economic growth has gone to those at the top of society.
The Labour leader will explain his strategy to tackle pay inequality and "institutionalise fairness" in Britain.
The government has already announced a compulsory national living wage of £9 an hour by 2020 for people over 25.
Mr Corbyn will suggest imposing "pay ratios" between those at the top and those at the bottom of a company's pay scale could be another option for creating a fairer society.
"Too much of the proceeds of growth have accumulated to those at the top," he will say.
"Not only is this unfair, it actually holds back growth. A more …read more
Source:: BBC UK