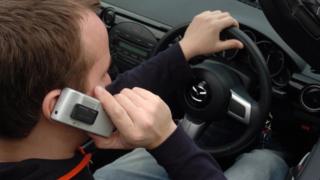 Bigger fine, more points plan for using mobile phones when driving
20 December 2015
From the section UK
Image copyright
PA
Motorists who use a mobile phone while driving could face tougher penalties if government plans are approved.
The government is planning to increase fixed penalty fines from £100 to £150, as well as the number of penalty points drivers receive.
Penalty points would increase from three to four for persistent offenders and from three to six for drivers of larger vehicles, such as HGVs.
Motoring groups welcomed the plans, which will be consulted on in 2016.
The proposals, which are part of the government's Road Safety Plan, are aimed at those who repeatedly offend.
Most first-time offenders will still be offered an educational course to help them change their behaviour.
The larger increase in the penalty points proposed for HGV drivers reflects the fact that accidents involving large vehicles can be much more severe, a government spokesman said.
The proposals follows a previous increase in the fixed penalty …read more
Source:: BBC world news feed