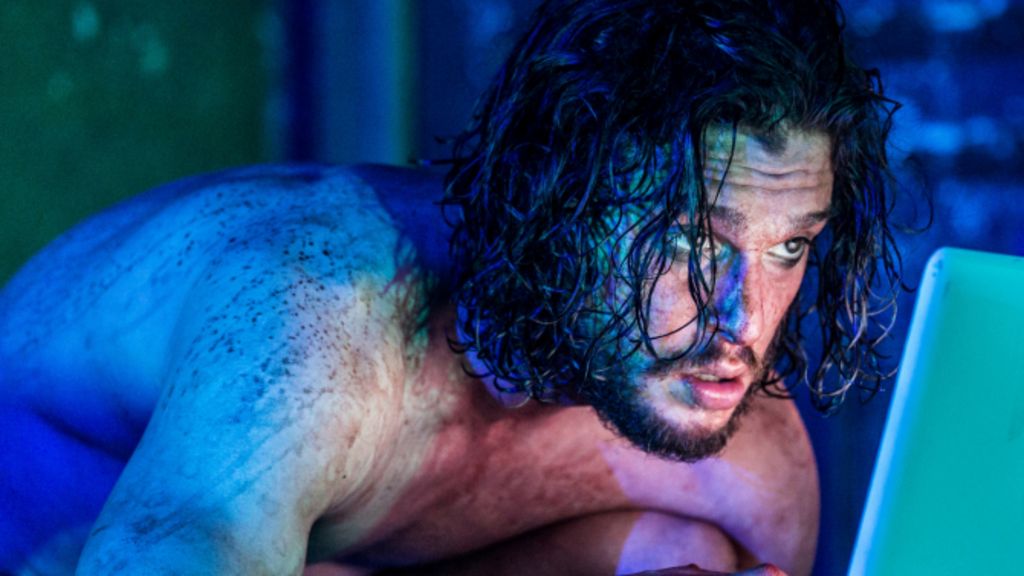 Game of Thrones star Kit Harington has returned to the West End stage in a play that gives a modern twist to 16th Century drama Doctor Faustus.
Directed by Jamie Lloyd, the reworking of Christopher Marlowe's play features two new acts by Colin Teevan.
One sees Faustus become a Las Vegas illusionist after he sells his soul to the Devil.
The audience at Monday's gala opening included fellow Game of Thrones actors Alfie Allen and Natalie Dormer.
This is Harington's first stage role since he appeared in the original production of Laura Wade's Posh at the Royal Court in 2010.
In January, the actor told the BBC how he was learning the art of stage illusion for his role.
Here's a round-up of what the critics thought:
The Times – Anne Treneman (4*)
You are warned that you are about to see adult material, scenes of a sexual nature, nudity, loud music, smoke, fog and, yes, "bangs". I guess they just forget to mention the rest, which includes a scene in which Kit Harington's rather stylish underpants are turned blood red in the shower. Ladies, you have been warned…
It's all wildly OTT but I must admit I rather liked it.
Read the full review (subscription required)
The Stage – Natasha Tripney (3*)
This is a very busy production; it's cacophonous and fidgety, occasionally ingenious, often absurd. It never shuts up…
There are an awful lot of bodily fluids. Blood but also spittle, spatter and leakage. Mouths froth. Wounds ooze. Amid all this, Harington is nothing if not game. He drools and moons. He spends a lot of time on stage in his pants.
Read the full review
The Telegraph – Dominic Cavendish (2*)
The Game of Thrones star looks great in this Marlowe revival but his delivery is stubbornly earthbound, and …read more
Source:: BBC Entertainment