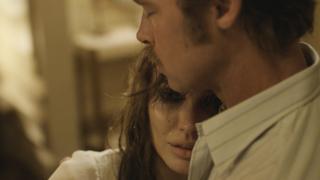 Critics slate Jolie and Pitt's latest film By The Sea
8 November 2015
From the section Entertainment & Arts
Image copyright
Film publicity
Image caption
The film is about a couple in the aftermath of a trauma
Critics have given a lukewarm reception to Angelina Jolie's By The Sea, in which she stars with husband Brad Pitt, calling it a "vanity project".
The relationship drama, written and directed by Jolie, opened this year's American Film Institute Film Festival in LA.
Hollywood Reporter said it was "far too long" and suffered from "stasis and dramatic flatness".
Variety added that it "it leaves the heart and mind coolly unstirred".
Source:: BBC Entertainment