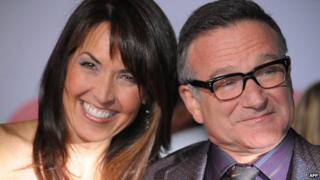 Robin Williams estate: Family reach settlement
3 October 2015
From the section US & Canada
Image copyright
AFP
Image caption
Wife Susan Schneider will remain in the home the couple shared
The wife and adult children of US comic actor Robin Williams have reached a settlement on his estate, lawyers say.
The out-of-court settlement has not been disclosed in detail, but brings to an end a legal battle that has raged since Williams' suicide last year.
A lawyer for Susan Williams said she would stay in the San Francisco home she had shared with the actor.
A lawyer for the three children said they were pleased that the legal battle had now been ended.
Susan Williams' …read more
Source:: BBC Entertainment