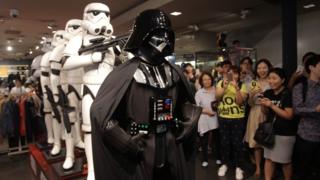 Disney shares slide despite Star Wars boost
9 February 2016
From the section Business
Image copyright
Getty Images
Disney shares fell over 4% in after-hours trading despite rising profits, as the performance of ESPN raised concern about the company's outlook.
Quarterly profit reached $2.9bn (£2.0bn), up from $2.2bn last year.
But profits for Disney's cable networks fell by 5% as programming costs on the sports channel ESPN rose.
The bright spot was Star Wars: The Force Awakens, which helped to boost studio profits by 86%.
Star Wars: The Force Awakens has brought in more than $2bn at the box office alone, and sales of merchandise helped boost profits in the company's consumer products section by 23%.
The slip in cable revenue took some of the wind out of Disney's earnings announcement.
Profits for Disney's media networks, which includes ESPN, ABC and the Disney Channel, fell to $1.4bn.
ESPN has seen its subscriber base fall in the …read more
Source:: BBC Entertainment