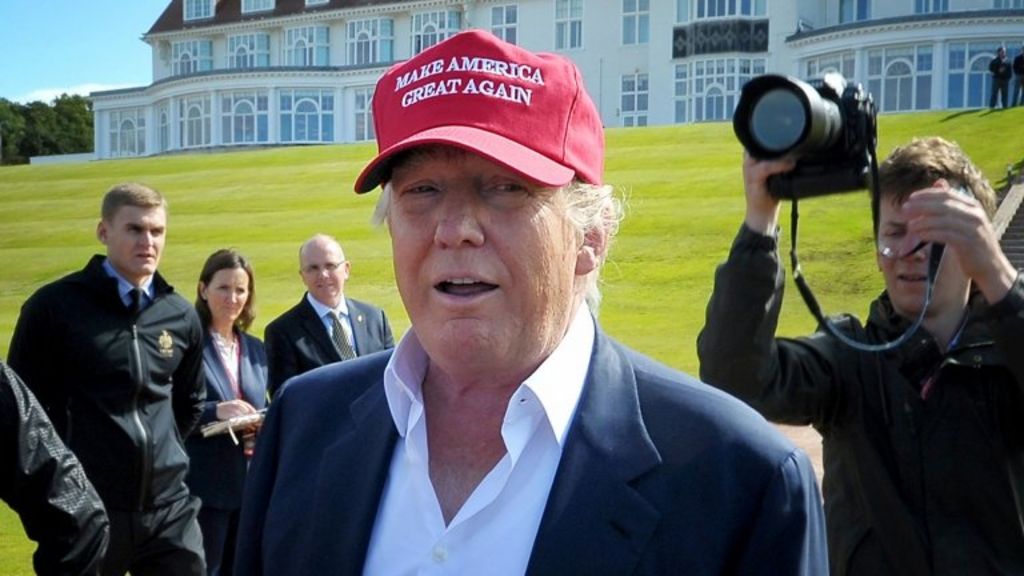 US presidential hopeful Donald Trump is due to arrive in Scotland for the official reopening of Trump Turnberry, following its major refurbishment.
He added his name to the Ayrshire hotel and Open golf course after buying the resort for an undisclosed fee in 2014.
The presumptive Republican nominee will arrive in the UK as the result is due to be announced in the EU referendum.
Protesters, who accuse him of "racism and bigotry" during his presidential bid, are expected outside Turnberry.
The US property billionaire's business links with Scotland began a decade ago as he promised to create a legacy to his mother Mary MacLeod, who was born in Stornoway in the Outer Hebrides.
Mr Trump owns more than a dozen golf resorts in the US and opened his first in the UK, at the Menie estate in Aberdeenshire, in 2012 after controversy surrounding planning, environmental issues and clashes with local people who refused to move.
He acquired the Turnberry resort from Dubai-based Leisurecorp two years ago before adding his name to the brand as part of a multi-million pound refurbishment.
Turnberry is one of 10 UK golf courses to host the Open golf championship on a rotational basis.
The tournament has been played there on four occasions, most recently in 2009.
The Open is expected to be played in England in 2020 and at St Andrews in 2021, meaning the earliest it could return to Turnberry would be 2022.
Leading golf writer Mike Aiken told BBC Scotland: "No-one would dispute that Turnberry is anything other than the most scenic course on the Open championship rota.
"It is lovely. It is our Pebble Beach but it needed money spending on it, it needed modernising and that's exactly what Trump has done."
Mr Aitken added: "You cannot take issue with what he has done with the golf course. It …read more
Source:: BBC UK