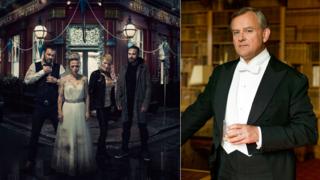 Downton Abbey and EastEnders set for Christmas ratings battle
25 December 2015
From the section Entertainment & Arts
Image copyright
BBC/ITV
Image caption
Some viewers will face a dilemma when EastEnders and Downton Abbey come on
The last episode of Downton Abbey will go head-to-head with EastEnders in a Christmas Day TV ratings battle later.
An hour-long edition of the BBC One soap begins at 20:45 GMT, the same time the final two-hour instalment of ITV's period drama begins.
When Downton Abbey went up against EastEnders on Christmas Day last year, the soap was watched by a consolidated audience of 8.6 million viewers.
Downton Abbey, in contrast, was seen by a total of 7.7 million.
That …read more
Source:: BBC Entertainment