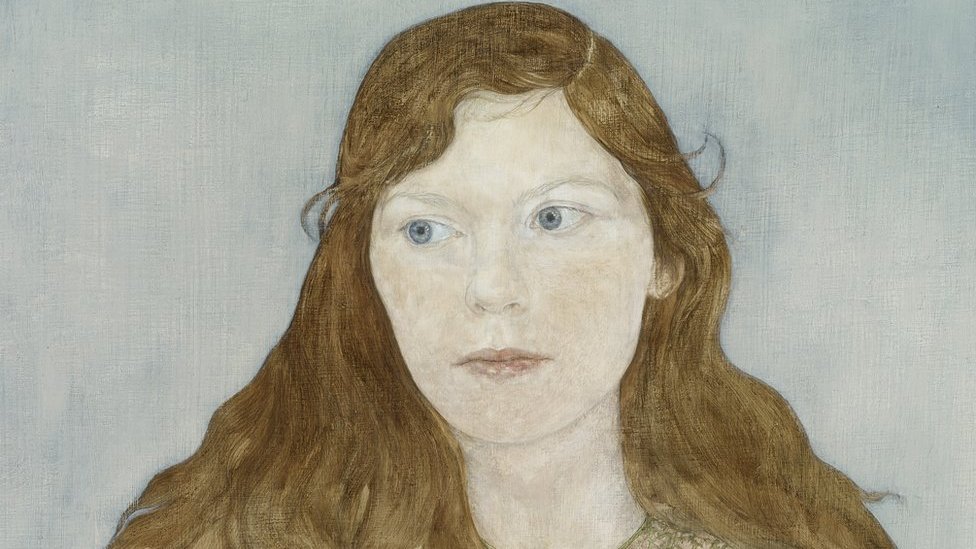 Clara Drummond has won the BP Portrait Award with a painting of friend and fellow artist, Kirsty Buchanan.
The Cambridgeshire-based artist won the prize for Girl in a Liberty Dress.
Two other portraits of Buchanan had previously been selected for the award's annual accompanying exhibition in 2013 and 2014.
Judges praised the portrait for "its subtle, enigmatic nature, and for the indelible impression the artist's skill makes on the viewer".
The 38-year-old artist also had portraits of different sitters selected for the BP Portrait Award exhibition in 2006 and 2009.
Buchanan wore a vintage Liberty dress for the portrait which was inspired by the fact both artists were working on an exhibition with the William Morris Society at the time.
Drummond has won £30,000 and a commission worth £5,000.
The second prize of £10,000 went to Chinese artist Bo Wang for Silence, a portrait of his grandmother lying on her hospital bed a month before she died.
Bo Wang is a lecturer at Suzhou University of Science and Technology in Jiangsu.
His grandmother was in the terminal stages of cancer and losing her ability to speak when he painted her.
"There was too much emotion in her eyes to be expressed in words," said Wang.
"I almost forgot about painting techniques or any specific style, just trying to use my brushes to communicate silently with my grandma.
"I can strongly feel the state of a dying life when I think of her eyes."
The judges called his painting "a moving and deeply affecting portrait".
Suffolk-based artist Benjamin Sullivan's portrait of the poet Hugo Williams won the third prize of £8,000.
The judges said the portrait gave them "a strong sense of the presence of the sitter" and said the painting had an "ageless quality…subtly balanced by the appearance of the modern wrist-watch". …read more
Source:: BBC Entertainment