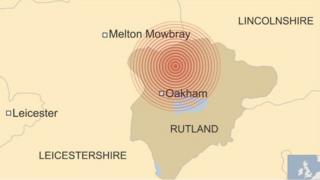 Rutland earthquake recorded at 2.8 in magnitude
23 September 2015
From the section Leicester
Image caption
The British Geological Survey said the epicentre was near Oakham, in Rutland
An earthquake with a magnitude of 2.8 has been recorded in a county hit by a series of tremors, the British Geological Survey has confirmed.
The epicentre was near the town of Oakham in Rutland, in the East Midlands, at 22:40 BST on Tuesday.
Three earthquakes were recorded in Rutland in April 2014, with the third being much smaller and probably an aftershock.
Then, another earthquake was recorded in January of this year.
The tremor in January was the largest, with a magnitude of 3.8, but some people reported feeling the latest earthquake more strongly than before.
BGS seismologist Paul Denton, who lives in Rutland himself, said this could be because the earthquake was …read more
Source:: BBC world news feed